For Primary Voter Information Please visit the Supervisor of Elections site here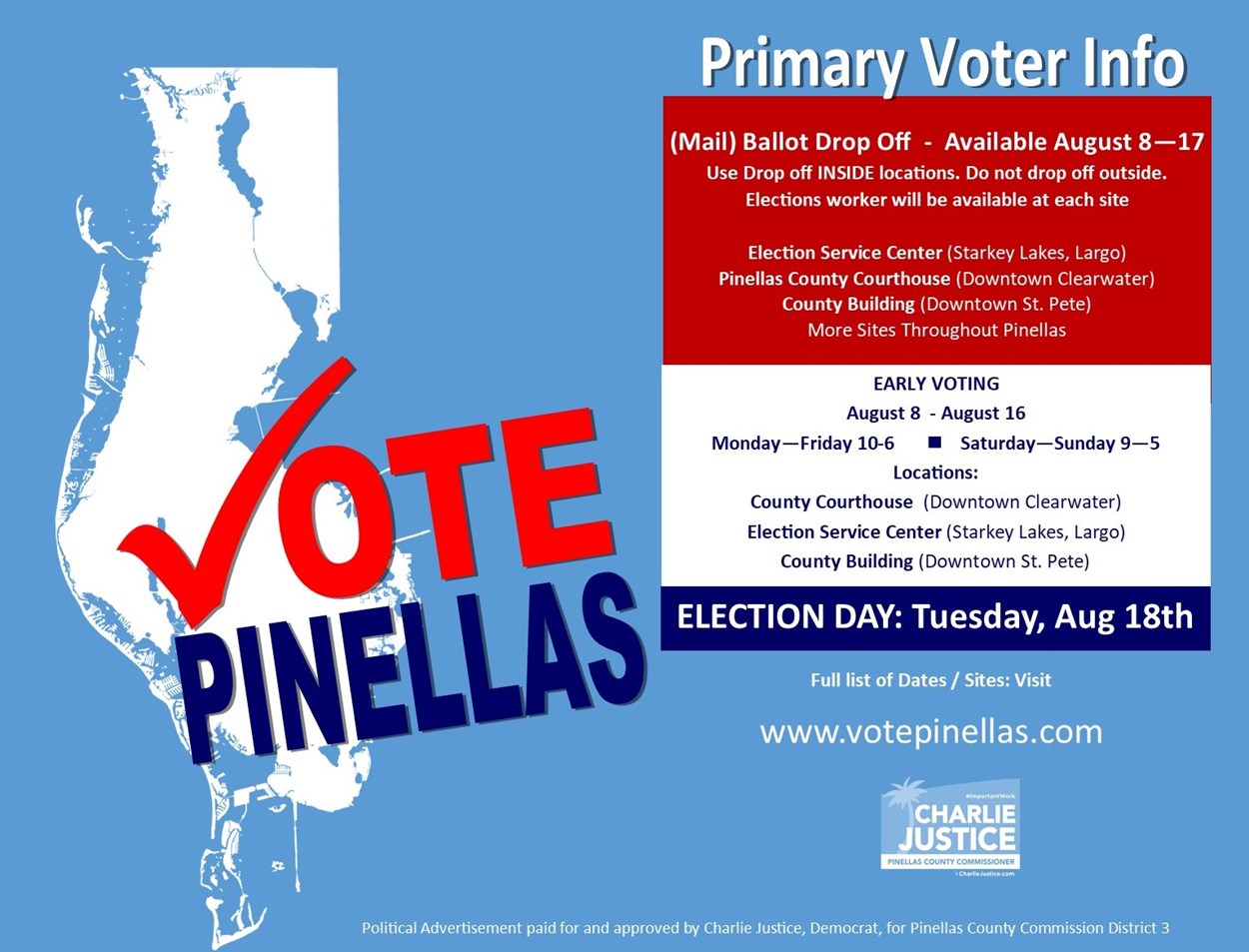 SUPPORT THE CAMPAIGN ONLINE
Thank you for being such a great supporter of mine over the years. I wanted to give you an update about the campaign. We have an opponent who is raising significant special interest money. And with almost complete elimination of events, your active support is even more critical.
Under my leadership, we have rejected the partisan extremism that permeates our federal politics to get things done here. We have built lasting relationships that have led to successes from Tarpon Springs to Tierra Verde. We have tackled areas of poverty with intensity, promoted our local small businesses, protected local employees, and invested in our infrastructure for the long term. All the while responding proactively to the COVID crisis in what we believe is a safe, sensible approach. We have restricted risky activity, promoted mask use, and supported our impacted families and small businesses with grants.
We have much to be proud of as a Commission in getting important work done for our community. The work continues and I want to be able to count on your support.
If we want to keep Pinellas the best place in the world to grow up, raise your family, work, and retire, we need a Commissioner that takes this job seriously. Trading in half-truths and conspiracy theories on social media will not get the job done. Thoughtful, sensible leadership is what I have offered and will continue to offer as your County Commissioner.
There's still important work to do and I hope you will join me. Let us know if you want to volunteer or have a yard sign HERE
I'm grateful for your confidence, your support and your vote.
Thank you.
Charlie
News
Saturday, February 29, 2020 12:51 PM
https://stpetecatalyst.com/pinellas-county-rolls-out-expanded-effort-to-work-with-small-businesses/
Small businesses in the Tampa Bay area will have first crack at about $40 million in purchases by Pinellas County, under an expanded Small Business Enterprise program.
The county rolled out the revamped program with an acknowledgment that the first go-round had not worked out as planned. The program is designed to give small businesses a chance to bid on county purchases, but initially there were too few staff members, inadequate ways to track who was using the program and poor communication, officials told about 200 small business representatives at a meeting Friday at the EpiCenter at St. Petersburg College.
---
Wednesday, February 19, 2020 7:22 AM
Florida Politics article about our upcoming Sunset fundraiser
https://floridapolitics.com/archives/319325-charlie-justice-to-soak-in-the-sun-and-donations-at-st-pete-beach-fundraiser
---
Sunday, December 1, 2019 12:00 AM
Pinellas Commissioners to host meet and greet and food drive in revitalized Lealman
---
Wednesday, November 9, 2016 12:00 AM
---
Sunday, July 10, 2016 4:56 PM
This is where you'll put a brief synopsis of a news item or press release. You can edit this content from the "News" tab of the control panel.